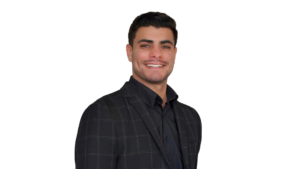 Ahmad Almayahi – Loan Officer, NMLS#: 1916294
Hello! My name is Ahmad Almayahi, and I was born and raised in Michigan. I have been living in Dearborn all my life! I come from a first-generation family, and every day was a learning experience growing up. Funny enough, I learned English as a kid by watching PBS, but I kept my Arabic roots through my mother's teachings. She helped me become fluent in Arabic, which is a tool I use every day for Arabic-speaking clients. I am a Dearborn High School alumnus, as well as an Eastern Michigan Graduate in Business with a Supply Chain focus.
I have been an MLO for three years and have been in the housing industry for 5+ years. I specialize in not only handling your finances, but also helping inform and teach you along the way, so that you aren't putting your trust in me blindly. I will always ask what your goals are, so that I can work that much harder to help you achieve them and earn your business for decades to come!
Personally, I follow international and club soccer like a second religion, and I check my NFL Fantasy Football Team on every break I get, so if you ever want to talk lineups or who'd win the next world cup, I'm your guy! Being family oriented is one of the things that I believe to be important in life, so my family is a huge pillar in my life. Because of that, I understand the Arabic community and will always help them understand the various parts of the loan process because I know how much my parents would have appreciated that when I was growing up. Let me not only be the guy that handles your mortgage, but the friend, the colleague, the part of the family, that will always put your goals and ambitions first!
Cell Phone: 313.258.9823
Fax: 844.216.8240
Email: AhmadA@extremeloans.com