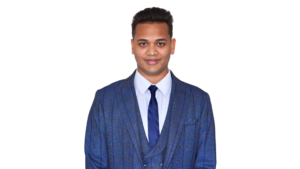 Mahi Ahmed – Loan Officer – NMLS #1931026 (Licensed in MI, FL, CO, TX)
Hello, my name is Mahi Ahmed, and I am an experienced Loan Officer here at Extreme Loans! I was born in Bangladesh and moved to Detroit, Michigan when I was 3 years old. Growing up as a first generation Bengali American, there was a lot of pressure to be the best I could be. These values have carried over with me throughout the years and even now.  My diverse and hardworking background is one of the sole reasons I love being a Loan Officer. I am always striving to be the best I can be for my clients, so I can help them achieve their goals. I love thinking outside the box to help put my clients in the best financial position.
My extended experience comes from Rocket Mortgage, where I was able to assist clients in purchasing their dream homes all over the country! Being able to be a part of helping my clients achieve their home buying dreams is where I fell in love with the industry. I love to connect with clients all over the country and be able to hear all the amazing stories. I treat all my clients as family and always set out to provide quality experience. I look forward to extending a hand to all my future clients and being by their side every step of the way! All in all, for me this isn't just work, this is a lifestyle. I push myself to be better every day and set out to crush every goal we set.
My hobbies include building cars, playing basketball, reading, and networking.  Ever since I could walk, I loved cars. Growing up in the Motor City, the car scene was influenced heavily on my upbringing. Playing basketball on my free time with my friends is also another hobby of mine. I find that working out and partaking in sports is a huge stress reliever! One of my favorite downtime activities is reading self-educational books, I love learning and educating myself. I find that self-knowledge is one of the best things you can do for yourself! Finally, I love networking, meeting new people, and connecting with people daily. I love building long lasting relationships with my clients and my realtor partners to help serve the community better!
To sum it up, if you want someone who is going to go the extra mile to help you achieve your financial goals and has a passion for providing the best quality service, I am more than happy to get the job done! I'm excited to work with you all and look forward to building a relationship or friendship for life! Let's connect!
Phone: 800.249.0080
Fax: 844.216.8240
Email: MahiA@extremeloans.com