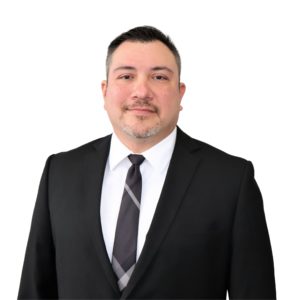 Ricardo Vazquez – Loan Officer
NMLS: 1962379
Hello, my name is Ricardo Vazquez, but everyone knows me as Rick! I'm a loan officer at Extreme Loans.
I grew up in Farmington Hills, Michigan, and went to Farmington High School. I attended ITT Technical Institute and obtained an Associate's degree in Computer Aided Design and Information Technology.  I settled in West Bloomfield, Michigan, with my wonderful and beautiful wife, Patricia. Together we have three amazing children – two boys and a girl. They are the reason I work so hard at everything I do!
I love spending time with my kids and golfing with my dad on the weekends. I also look forward to date nights with the wife!  My parents are from Mexico and met here in Michigan, enabling me to speak Spanish; I've picked-up some Chaldean and Arabic along the way, from my wife.
I have over 25 years of sales and customer service experience. I started my sales career selling life, health, property and casualty insurance. I transitioned to wireless sales and distribution, bringing on over 1500 points of distribution nationwide. I spent over four years managing and operating retail wireless stores, with a key focus on providing the best customer service possible, in all my locations.
Customer service is very important to me. I look forward to going above and beyond to provide you the best service possible!
Phone: 800.249.0080 x130
Fax: 844.216.8240
Email:RicardoV@extremeloans.com