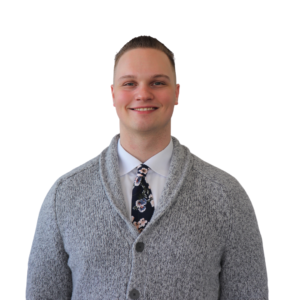 Austin Shackelford – Loan Officer
NMLS: 1864940
Hello! My name is Austin Shackelford, and I am a Loan Officer here with First Savings Bank! I was born in Raleigh, North Carolina, but my parents and I moved back to Michigan when I was only a year old. I spent most of my childhood growing up in Redford, Michigan until high school. I graduated for Plymouth High School, and I got my first sales job after graduating. Currently I am living the bachelor life in Farmington Hills, Michigan. With that being said, I spend most of my time focused on my career and helping people all across the United States with their mortgage needs!
When I am not working as a Loan Officer, I am training for powerlifting. Nothing is more fun than trying to lift more weight than what you did last time. I love the constant challenge lifting brings, and it keeps me from getting into too much trouble! If its college football season, then you might catch me skipping the gym to watch a few of the games!
If you are looking to refinance or purchase a home, I am your guy. You will never forget the experience I provide, because it is my goal to make it the easiest 30 days of your life. I will be in contact daily about what is going on to keep you updated through the whole process. My number one priority is customer satisfaction! I look forward to having the opportunity to work with you!
Phone: 800-249-0080 x142
Fax: 844.216.8240
Email: AustinS@extremeloans.com