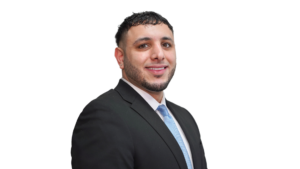 Danny David – Loan Officer (NMLS #:1455420)
Hello! My name is Danny David, and I am a licensed loan officer at Extreme Loans. I grew up and currently live in Oak Park, graduating from Berkley high school. After high school, I served in the United States Army for four years. During my time serving, I was awarded the Legion of Merit for my work in Flint during the water crisis. I worked hand in hand with the people of Flint, providing water and filters for those in need.
Upon my return, I joined Rocket Mortgage, where I learned the ins and outs of mortgages. I originated over 1,000 closings during my time there and was promoted to a Senior Banker. My goal now is to help others, including providing our veterans with accessibility to our VA Loan.
I am currently engaged to my fiancé, Angie Pearson. We have a 3-year-old daughter together, and her name is Mila. I also have a dog (Koda) and a cat (Theo). I enjoy spending time with my family, going swimming, and seeing my daughter smile.
I also love working out, playing basketball, football, and watching sports (UFC, NFL, NBA). I love being from Detroit because I embrace the grind-type mentality.
Give me a call, and I'll be happy to answer any questions you have!
Phone: 800.249.0080 x129
Phone: 586.551.9501
Fax: 844.216.8240
Email: DannyPD@extremeloans.com