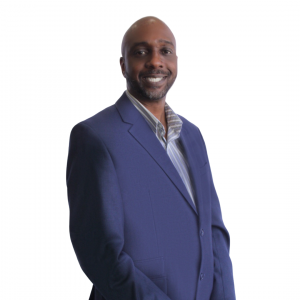 LaMont Kennedy –Associate Loan Officer
Hello, my name is LaMont Kennedy! I am an Associate Loan Officer at Extreme Loans, where I generate mortgages for purchases and refinance existing ones.
I currently reside in Southfield, Michigan, and have been married to my wife, Shelly, since 1995. We have three beautiful daughters and one granddaughter. We also have a Chihuahua named Louie and a Rottweiler named Lexi – both of whom we all love very dearly!
I grew up in Romulus, Michigan, and attended Romulus High School. From there, I went to college at DeVry University in Columbus. After that, I began my mortgage career. I have been financing mortgages since 2001.
I love sports and being with my family. I am a home team fan when it comes to sports, so I love the Detroit Lions, Detroit Pistons, Detroit Tigers, and Detroit Red Wings. I love my community; the area has so much to offer for kids and adults alike, including parks, places to swim and professional sporting events. I'm all about having fun – as well as doing great business.
My main passion in life is my mortgage business. I want all my potential clients to know that I'm very passionate about my job, and doing the best I can while working with your mortgage. I will communicate daily with you and ensure you know every step throughout the process. This, as well as over two decades in the industry, often separate me from other loan officers.
I love building relationships with current and new clients. I believe in customer service first – which means the best deal in banking for every client. That means you, too!
So to sum it all up for you, my future client: if you want someone who truly cares about you and your mortgage, I'm the person for the job. I will go the extra mile to make sure that your file gets handled professionally and efficiently.
So when you're ready, give me a call, shoot me an email, whatever you'd like. I look forward to speaking to you either way!
Phone: 800.249.0080 x128
Email:LamontK@extremeloans.com