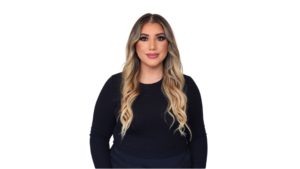 Marla Abdulnoor – Loan Officer, Senior Team Lead
NMLS: 1662502 (Licensed in MI, AL, AK, AZ, CA, CO, CT, DE, FL, GA, IL, IN, KS, KY, LA, MA, ME, MD, MN, NJ, NM, NC, OH, OK, OR, PA, SC, TN, TX, VA, WA, WI)
Hi, I'm Marla! I'm a branch manager at Extreme Loans.
I was born and raised in West Bloomfield, Michigan. I graduated from West Bloomfield High School in 2014 and attended a community college to continue my education.
Naturally, I get my passion for Detroit sports from my life in West Bloomfield. Any Detroit sport is my favorite sport, and then, of course, there are The New England Patriots.
I have one dog named Milo, a Yorkshire terrier who steals my heart every day.
My favorite things to do are read, write, and travel; they are things I will always love, because each help me challenge myself –something I try to do every day. A passion and mission of mine is to travel to every state and country – it will take a while, but it's a necessity for me. It's a huge world, with an endless amount of things to discover – I plan on making those discoveries.
My favorite thing about my team at Extreme Loans is that we really are a family; everyone builds off of and supports one another.
I've always been a people person – every job I have ever had has been in the customer service field, working one-on-one with clients. As a loan officer, I closed hundreds of deals, which means I had hundreds of clients – which means I had hundreds of priorities! I put others before myself. That's why I always say your best interest is my main priority – and doing business with me should be yours!
Phone: 800.249.0080 x106
Fax: 844.216.8240
Email:MarlaA@extremeloans.com