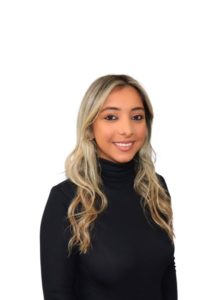 Martina Abdulnoor – Loan Officer
NMLS: 1862513 (Licensed in MI)
Hi, I'm Martina! I'm a loan officer at Extreme Loans.
I live in Commerce Township, Michigan. I grew up in West Bloomfield, Michigan, and attended West Bloomfield High School.
My hobbies include running and cleaning. Running helps me relax, and keeping things clean and organized keeps me sane. I have a Yorkshire terrier named Milo, and he brings our family the utmost joy.
I have a passion for music. Music makes me happy and energizes me.
My favorite sports team is the Arizona Phoenix Suns. I could watch basketball all day, although I don't always know what's going on.
I love giving back to others and helping those in need. I love that my community is giving, and acts as a family. Family is everything to me.
I offer respect, integrity, and undivided attention. You should work with me because I'll always make you my top priority. I'll also make certain that you're happy and satisfied with everything I do for you, the entire time I am your loan officer! I really love to make others happy!
Phone: 800.249.0080 x111
Fax: 844.216.8240
Email:MartinaA@extremeloans.com