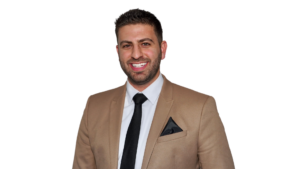 Michael Nafso – Marketing Director
My name is Michael Nafso, and I'm the Marketing Director at Extreme Loans. I have an extensive background in videography, including my previous job as a News Reporter & Weekend Morning Anchor at ABC12 in Flint and my side job as a videographer for special occasions like weddings, engagements, and proposals. It was at one of these events where I met my wife, and we got married in July of 2020.
I am no stranger to the area. I was raised in West Bloomfield before moving to Ann Arbor to get my Bachelor's Degree at the University of Michigan. From there, I moved to Chicago to work in video production for the Big Ten Network. That opportunity brought me back home two years later to work at Fox Sports Detroit (now Bally Sports Detroit) for almost three years. One fun fact is that during my time working there, I helped close down Joe Louis Arena and the Palace of Auburn Hills and open up Little Caesars Arena. I'm a huge sports fan, so this was a dream job for me! I learned a lot about the TV industry there, but I wanted to get live television experience, which is what brought me to the Flint area. Now, I'm enjoying being back home and using my skills in videography and graphic design to showcase the amazing culture and people who are part of the Extreme Loans family.
When I'm not at work, you can find me doing anything outdoorsy. I enjoy playing sports with my family and friends and traveling with my wife. I also enjoy binge watching old TV shows like The Office and Friends. If you have any questions related to Marketing, Videography, Graphic Design, or the Red Wings/Avalanche Rivalry, please don't hesitate to reach out!
Phone: 248.770.0508
Email: MichaelN@extremeloans.com