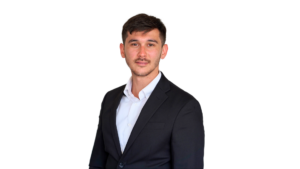 Nick Totsch – Associate Loan Officer
Hello, I'm Nick, a versatile individual with a zest for life and a passion for helping others. Born and raised in Michigan, I spent my formative years in Royal Oak before embarking on a journey of discovery, which led me to various places since the age of six. Currently calling Sterling Heights, Mi, my home, I've always been one to embrace new challenges and experiences.
My life revolves around my loving family, which includes two Australian Shepherds who bring endless joy and excitement to my days. Their energetic presence keeps me on my toes, making sure they lead a life full of adventure and happiness.
With a background in CNC operation, I realized that my true calling lay elsewhere. I followed my heart and found my way to Extreme Loans, where I could pursue my dreams of connecting with new people every day. I genuinely enjoy assisting others in any way possible. For me, the happiness and satisfaction of my clients are of utmost importance, and I strive to provide them with the smoothest experience throughout the entire process, being available day and night to support them.
When I'm not working, I find solace in my hobbies and passions. I spend weekends bonding with friends and family over rounds of disc golf, exciting kayaking trips, and invigorating hikes in nature. My love for learning and growth extends beyond personal interests, as I actively invest in my education, stocks, and real estate, always seeking ways to expand knowledge and make a positive impact on the community.
I'm always eager to lend a helping hand, and genuine care for others makes me stand out from the crowd. Whether it's sharing a friendly conversation or offering expert advice, my approachability and warm demeanor make me a natural choice when seeking guidance in the world of loans and financing.
In summary, I am a dynamic individual with a rich background and a heart full of dedication to my clients and community. With a passion for learning, love for adventure, and commitment to helping others.
Phone: 800.249.0080 x216
Cell: 248.346.6328
Fax: 844.216.8240
Email: NickT@extremeloans.com