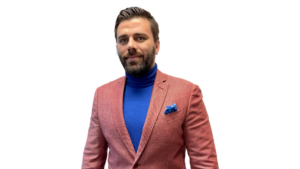 Sergey Pesch – Loan Officer, NMLS #:1993769 (Licensed in MI, CA, CO, FL, PA, WA)
Hello! My name is Sergey Pesch. I moved to the U.S. in 1999, and Michigan has been a home for me ever since! 
I have been in the customer service and sales industry for more than 20 years. When I started working in the mortgage industry, I began working with Rocket Mortgage, the largest lender at the time, where I have learned the basis of business. I am extremely excited to start my next chapter with Extreme Loans, and I'm looking forward to what the future holds! I take a lot of pride in the fact that people put their trust and financial well-being in my hands, and I work very hard to make sure that my clients are never disappointed. I ask for 5% of your trust upfront and I will make sure I earn the other 95%. 
I am a family man, and when not assisting my clients and realtor partners, I spend all of my time with my beautiful wife, Selma, our daughter Aila, and 2 dogs, Romeo and Snow. Spending time with my family means the world to me. You can always find me with my family in the backyard barbecuing and smoking a cigar.
Cell: 248-202-5034
Phone: 800-249-0080 x210
Fax: 844.216.8240
Email: SergeyP@extremeloans.com